Dear Guests,

due to government restrictions we are only allowed to let guest stay in our hotel if you are

- You have complete vaccination protection (at least 14 days after the second vaccination)
and you have a booster vaccination. or - You are considered to have recovered (evidence of recovery at least 28 days and max. 6 months old)
- and you also provide evidence of a negative rapid test that is updated weekly

A test must be a Rapid Antigen Test taken less than 24 hours before arrival or a PCR Test taken less than 48 hours before arrival. This obligation does not apply to school children or children under the age of 6.
Please also keep a distance of at least 1.5 metres to other people

We are very engaged to let you have a very relaxing and mostly normal stay with us.

We are available for you at gast@fleesensee-resort.de or phone +49 - 39932 - 80 700 and look forward to your booking.

We wish you and your families all the best, strength and endurance during the corona pandemic period and hope to see you soon at our phantastic place Fleesensee.

Stay healthy.
Your Team from Fleesensee Resort & SPA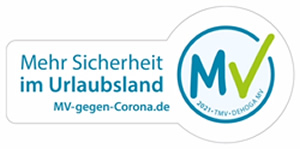 "More security in the vacation country"

The Fleesensee Resort & Spa has been one of the first companies in Mecklenburg-Vorpommern that received the basic seal "More Safety in Holiday Land". A joint initiative of the Tourism Association MV and the German Hotel and Restaurant Association MV. We are very proud about this.

We take the topic seriously, out of responsibility for our guests and employees!