Dear Guests,

The federal and state governments have again decided to extend the lockdown. This means for us that we still have to keep our hotel and all restaurants closed. We do regret this decision very much and we hope to welcome you again soon. Please do not forget about Fleesensee Resort & Spa and keep your fingers crossed for all of us and for the tourist travel to be allowed again soon.

If you would like to stay informed about how we are using this "unintended break", please feel free to follow us via https://m.facebook.com/fleesenseeresort

We would be very happy if you visit us on another date and look forward to your new request. Of course we are also available for you during the closing times (limited) at gast@fleesensee-resort.de or phone +49 - 39932 - 80 700 and look forward to your booking.

We wish you and your families all the best, strength and endurance during these special days.

Stay healthy.
Your Team from Fleesensee Resort & SPA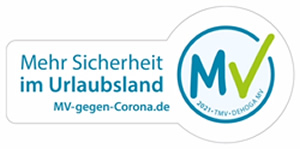 "More security in the vacation country"

The Fleesensee Resort & Spa has been one of the first companies in Mecklenburg-Vorpommern that received the basic seal "More Safety in Holiday Land". A joint initiative of the Tourism Association MV and the German Hotel and Restaurant Association MV. We are very proud about this.

We take the topic seriously, out of responsibility for our guests and employees!