Dear Guests,

Finally the time has come. We are gradually reopening and are very much looking forward to our first guests in 2021.

We will open our hotel for business travelers on Thursday, June 10th, 2021 and for all holiday travelers on Monday, June 14th, 2021.

We are of course already available for you at gast@fleesensee-resort.de or phone +49 - 39932 - 80 700 and look forward to your booking.

We wish you and your families all the best, strength and endurance during the last few days in lockdown and we would love to give you a first highlight at Fleesensee.

Stay healthy.
Your Team from Fleesensee Resort & SPA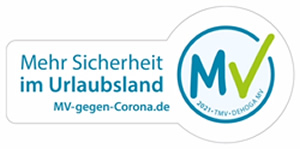 "More security in the vacation country"

The Fleesensee Resort & Spa has been one of the first companies in Mecklenburg-Vorpommern that received the basic seal "More Safety in Holiday Land". A joint initiative of the Tourism Association MV and the German Hotel and Restaurant Association MV. We are very proud about this.

We take the topic seriously, out of responsibility for our guests and employees!